It would be nice to see Clinton work in the next Obama administration!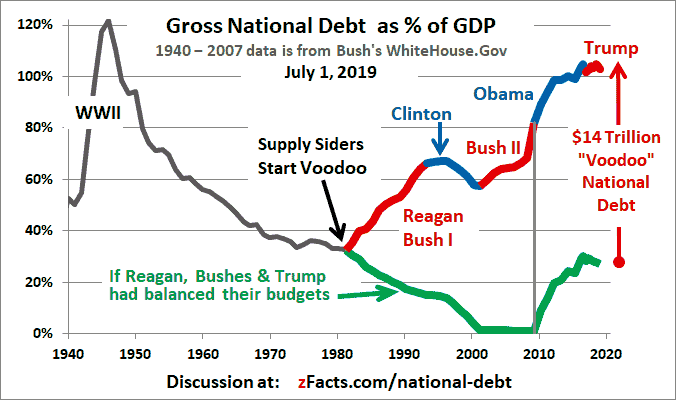 In 1981, the supply siders commandeered the Reagan Presidency and employed their
Voodoo economics
, as Bush senior had called it in 1980. He was saying that tax cuts would not increase government revenues. As you can see above, the Voodoo performed just as Bush predicted, and the supply siders turned a 32-year winning streak into a debt disaster that continues to this day. For 20-years, under Reagan and the Bushes, the national debt increased compared to GDP every single year. In most other years it decreases. Twenty years in a row can't be just and accident, but to understand you need to learn the
voodoo strategy
. (
Why Debt / GDP ?
)
Bush senior fought against it, so the Republicans didn't support him and he lost to Clinton, who put an end to it supply-side economics. G. W. Bush brought it back full strength, with V.P. Cheney saying "Reagan proved deficits don't matter." Currently supply siders are in full control of the Republican party.
The green line
shows what would have happened to the national debt if Reagan and the Bushes had balanced their budgets as Reagan claimed he would. G.W. Bush, in all modesty, claimed he would "retire nearly $1 trillion in debt over the next four years. This will be the largest debt reduction ever achieved by any nation at any time."
Conservatives are quite embarrassed by this performance, so they have invented a cover story: The Democratic Congress did it. Nice try. But for 12 of the 20 years the Congress was not Democratic. Also, presidents can veto, and when it was Democratic, Congress passed
smaller
budgets on average than the Republican Presidents asked for. Presidents propose the budget, and they have the most influence.
Check it out
.