Discussion Starter
·
#1
·
Today was an absolutely amazing day..Jen said she wanted to kille a turkey a couple days ago.....So she went and got her license and tag yesterday...
This morning we headed out on her first turkey adventure. I told her this wasnt going to be like deer hunting...We might hear one and we probably wont see one. I hadnt been back to this farm in a week...So i didnt know where or if the birds were still there.
We set the blind up in the dark and at first light had one light up behind us about 300 or so yards away...I instantly wrote the bird off because of the terrain in between us.....I caled to him a couple times just to hear him faintly gobble. about 10 minutes later...he was standing 50 or 60 yards behind us gobbling. I coudnt believe it. he gave us two gobbles and disappeared, I have no clue what happened to him. I told her there was no sense in staying and we packed up and left.
We pulled into a farm by my house and I told her we would go and call a bit and see if we could get one to gobble.....Nothing, big surprise.....
As we were leaving I looked at the other end of the farm in the pasture and there stood a bird strutting......Why he didnt gobble I dont know... So we hiked back up the ride and slipped down the bank leading to the pasture..Luckily the bacnk was covered in thick thorns and we were able to slip in to 100 yards or so...We got set up and i called...HE gobbled but it was faint and it sounded like he was on the ridge above us...So we ran to the top. Once again, got set up and called. nothing....after a few minutes I thoguht I kept hearing faint gobbles at the bottom of the hill.....So I told her I thought he was back down in the pasture....Once again we moved through the briars....
We got set up and I called....He gobbled, but quietly... I sat still....he gobbled again...I called this time....About a minute later he gobbled again and he was closer. I kept quiet still.....HE gobbled again....Closer yet...I told her to get ready...He was on a kamakazi death run....I saw the bird coming along the briars at about 30 yards....HE made a right turn to go up the hill....I purred to him, he gobbled rt in our faces at about 20 steps... Around the corner he came....stopped at 20 yards, no shot for Jen....HE saw something he didnt like...he took off and I told her to shoot......HE got to about 35 yards and BOOM!!!!!!!!!! He rolled like basketball across the pavement....DEAD BIRD!!!!!!!!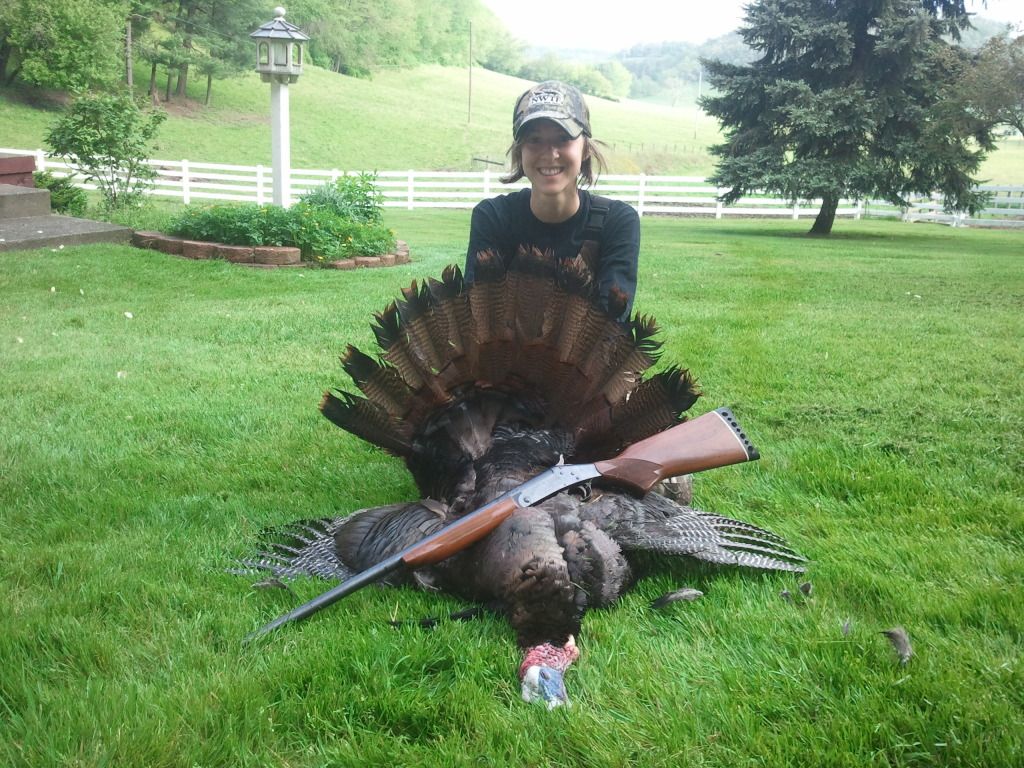 1 1/2 inch spurs, 10 inch beard and 20.5 lbs
Probably one of the coolest turkey hunts I have ever been on... This bird was on a mission......Unfortunately his mission involved running into some lead!