Discussion Starter
·
#1
·
Hi guys! Figured I'd post a short update on Apple Creek since I've fished it 3 times the past few days.
Arrived on Sunday in the late afternoon. A few other fishermen (spinning rods) scattered around but not much activity. Worked my way downstream from the park entrance. Spent a good amount of time just watching the water since I did notice a fair amount of march browns and stones hatching. At one slow section along an undercut bank I noticed a rise but did not see what the fish rose to nor what type of fish it was. I decided to go small and tied on a 14 EHC. No dice. Waited a few more minutes and decided to go the magic fly....a size 16 Griffiths Gnat. Actually got a close to perfect cast up against the bank and a good, slow, drag-free drift. Just as the fly approached an exposed root ball, bingo!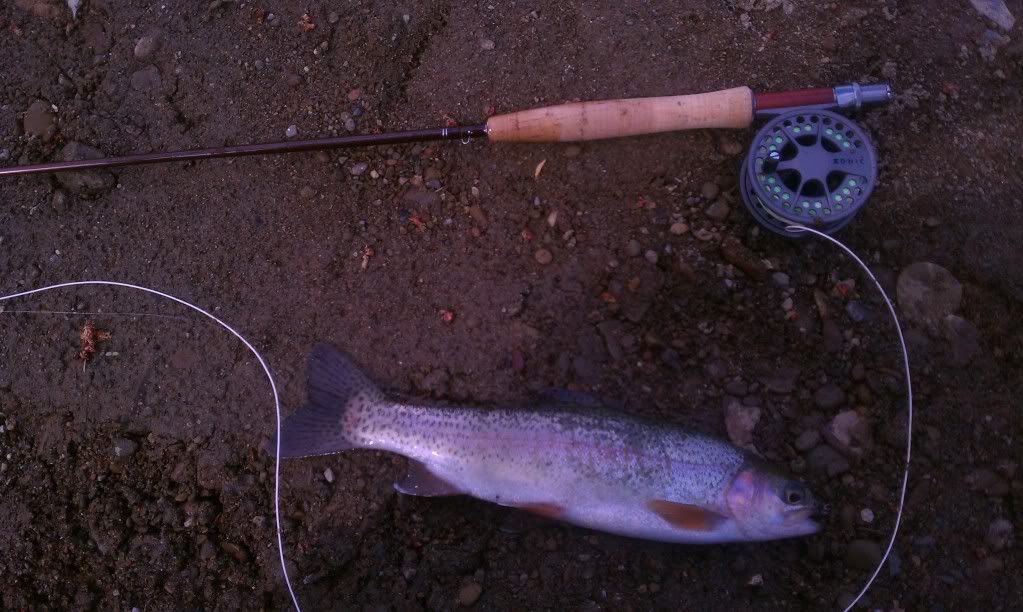 Not the prettiest trout I've ever seen, but a rainbow nonetheless. Plus, it was the maiden fish on my new Redington CT 3wt and Konic reel, so I was pleased.
Worked my my downstream and saw no more risers. Spent the rest of the evening nymphing with no success. Decided to throw on a black bugger and drift through some holes. Drifted past some rocks and got a vicious strike that surpised me a bit. :yikes: Once I saw what it was, I was not as shocked.
That was the last fish for that day. Not a bad evening overall.
Decided to give it another go yesterday. Arrived in the early afternoon and again worked my way downstream from the park. Sun was very bright with no clouds so fish were holding deep. Tied on a white bugger and drifted the deeper holes. No luck til a ways downstream at a hole with very fast water flowing into it and slower water along the feed line up against the bank. Bingo again!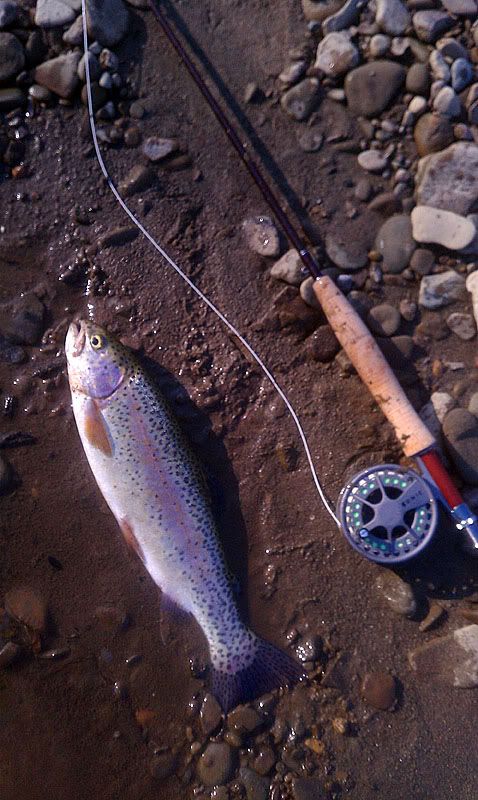 Released this one and tossed the bugger back in. Literally on the next drift....
Both fish were sluggish although the second one did manage a nice jump during the fight. Again, not a bad evening overall. I did revisit the hole where the rock bass were hanging out but for whatever reason, they were not willing to play this day.
With the warmer weather, all the typical negative things about this river are starting to reappear. Lots of dog walkers with no leashes, kids swimming in the best holes with no regard to fisherman, etc. I probably won't visit this water much more this year but at least it was a good start to trout season.
Tight lines guys!